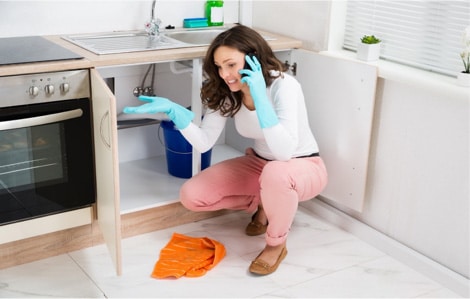 Plumbing expenses are expenses which, like you, most of the people don't anticipate. It is the last thing on the mind and you tend to think about calling a plumber when it is too late and the damage has been done. At that time it costs you a lot of cash and it gets very messy and gets disastrous. To avoid such situations it is better to call a plumber in Philadelphia a soon as you encounter seven of the warning signs listed below:
1. Gurgling Sound
If you hear a gurgling sound whenever you use the toilet, shower or run the dishwasher or laundry, there might be a problem lying ahead. It can be more serious if the sound persists if the toilet is not being used. This gurgling sound is heard repeatedly when the plumbing system in your house is trying to find air and this will lead to backing up of water in your house.
2. Smelling Gas
If you smell a gas in any part of your house doing anything, don't take it lightly. The natural gas is mixed with scent and it might be a gas leak which you can smell due to the unpleasant smell. You should immediately call the plumber as well as the gas company to shut off your gas. Meanwhile, close all the switches and appliances in the house to avoid any damage due to the gas leakage from the pipes as even a spark in a bulb can ignite a gas explosion.
3. Hearing Water in Pipes
If you hear water running in your toilet or pipes when you are not using the toilet, you might be having a leak in your pipes. You can also check for wet or brown spots on the floor, ceiling, and walls. If the leakage is in the hot water pipes then the spot will also be warm. Switch off the heater and check the meter if it is still spinning. Call an experienced plumber for a quick fix to your problem before it does any more damage.
4. Lower Water Pressure
Lower water pressure is mostly caused by the build-up of gunk in aerator of the faucet which you can screw off to solve the problem. If it doesn't help then you might have a water leak in the system, fractured pipes or an eroded waterline. Instead of amplifying the problem by trying to DIY it, call professional help.
5. Drainage Problem
If you have a clogged pipe or the kitchen or bathroom sink is taking more time in draining even after using a plunger and other techniques, then instead of damaging the pipes by trying to fix it yourself call in the plumber.
6. Sewage Odor
If you suddenly smell an odor of rotten eggs, you might have a broken sewer pipe or vent in your house. This problem is not only unpleasant but will also cause environmental and health issues. Plus it will damage your house's foundation. It is best to call in a Philadelphia plumber in this situation.
7. Frozen Pipes
In winter if your pipes don't have running water along with clanking noises, it means your pipes are frozen. It requires immediate professional help because it will lead to cracked or burst pipes. In winter it is advisable to let your pipes running at a dribbling pace to avoid frozen pipes.
Now you know when to call for help. So don't wait any longer if you encounter these situations. Immediately call Goodman Plumbing and get your problems fixed in no time.
Top 7 Signs You Urgently Need to Call the Plumber
Goodman Plumbing is a second generation company that has over 6 decades of experience and outstanding growth. Recognized as one of the best plumbing companies in the Delaware Valley, Goodman Plumbing's achievements are the result of our family values that are part of every project no matter how large or small. This is why it is extremely important to us that we treat our customers like family.
So if you need sewer line repair, toilet repair, well service or even water damage restoration contact us today and schedule your next appointment! Serving Abington, Willow Grove, Horsham, Fort Washington, Feasterville Trevose, Langhorne, Yardley, Newtown, Richboro, Warrington, Doylestown, New Hope, Chalfont, Lansdale, King of Prussia, Wayne, Havertown, Springfield and surrounding!